Leonid Slutsky laughs off claims from women that he attempted to grope and kiss them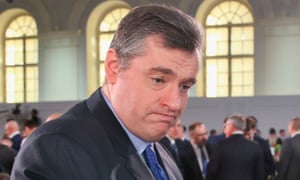 Two female journalists have openly accused a high-ranking member of the Russian parliament of attempting to grope and kiss them against their will.
The revelations are the biggest sexual harassment scandal to date in a country that has mocked the #MeToo movement as political correctness run amok.
The women both accused Leonid Slutsky, the chairman of the State Duma's foreign affairs committee, of attempting to force himself on them while they negotiated with him for interviews.
One of the women, Ekaterina Kotrikadze, said that Slutsky locked her in his office in Russia's lower house of parliament when she approached him for an interview seven years ago.
"He asked me to come without a camera," she said in a live broadcast on the RTVI television station, where she is now deputy editor. "He brought me into his office, locked the door and tried to pin me against the wall and somehow kiss and touch me. I got away and ran."
Kotrikadze made her accusation against Slutsky after others from anonymous women appeared in the press. He brushed them off. "Attempts to make Slutsky into the Russian Harvey Weinstein just look like a cheap, shoddy provocation," Slutsky wrote on Facebook.
On Thursday evening another young woman, Darya Zhuk, a producer for the Moscow-based television station Dozhd, said Slutsky had "tried to kiss me by force, tried to touch me" when he came to the station's studios for an interview in 2014.
"Now I have just one question for you: will you still deny all of this?" she said in a video broadcast by the station.
Slutsky could not be reached for comment on Zhuk's accusations, his spokeswoman told the Guardian on Friday.
There has been a strong backlash in Russia to the #MeToo movement, which has been derided as a liberal conspiracy. Prompted by the media and signs of official support, rejecting accusations of sexual harassment has been adopted into a larger cultural war with the west.
"We don't live in America or in Europe, why should we copy everything they do?" said Tamara Pletneva, the head of the Duma's committee on family affairs, who came to Slutsky's defence, as reported by the Russian-language site Meduza. "If a woman doesn't want [attention], then nobody will harass her."
Slutsky also intoned that the accusations were a foreign plot. "Odd that they couldn't find some Ukrainians or Americans to accuse me of this," he said in a nod to Kotrikadze's Georgian heritage. "Instead of taking away my authority, this will add to it."
There have been prominent public campaigns against sexual assault and domestic violence in Russia. The largest was #Янебоюсьсказать, or #IAmNotAfraidToSay, a campaign popularised by a Ukrainian activist named Anastasia Melnichenko that encouraged thousands of women in Ukraine and Russia to share stories of assault widely viewed as shameful or taboo in the public eye.
But the social media campaign peaked in 2016 and then passed. In 2017, the Duma passed new legislation to decriminalise domestic abuse, downgrading assaults of spouses or children that result in bruising or bleeding but not broken bones to just 15 days in prison or a fine, if they do not happen more than once a year. Previously, they carried a maximum jail sentence of two years.
Recently, Vladislav Surkov, a powerful Kremlin aide, wrote in a magazine column that he was worried about "the matriarchy" in the west managing sensitive political issues like Brexit or the migration crisis. "Our fatherland, protected by God, hasn't been affected by feminism that much," he wrote in the Russian Pioneer on Valentine's Day.
And on Russian state television earlier this week, a clownish presidential candidate named Vladimir Zhirinovsky called a female rival, Ksenia Sobchak, a "whore". Sobchak doused him with a glass of water.
Two allegations against Slutsky have now been lodged in the Duma's ethics committee. So far, he has mainly treated the accusations as a joke. "I'm prepared to take a couple of journalist girls myself," another member of parliament wrote on Facebook earlier this week. "Slow down colleagues. Where am I going to find so many journalists for you?!" Slutsky responded.
Powered by WPeMatico